Hot News: Commodore Amiga Legend arrives on AmigaOS 4.X
Posted on:

6 November 2013
Hi everyone,
Very, very good news for you this evening.

Just a couple of hours ago the announcement below was posted on Amigaworld.net by Torben Larsen, one of the authors of the famous game Battle Squadron:
IMMEDIATE RELEASE
Press Release date 06.11.2013
Cope-Com development team are proud to announce that through further collaboration with out partners GoldenCode.eu and Seal Of Action Publishing you can now play our famed classic Amiga shooter on your AmigaOS 4.X.
Please see the following links, youtube and also download a Free Demo on AmigaOS 4.X:
Free Demo: http://www.sealofaction.com
Website: http://copecom.com
Press Material: http://copecom.com/news.html
Youtube: http://www.youtube.com/watch?v=T4d_3muxeSo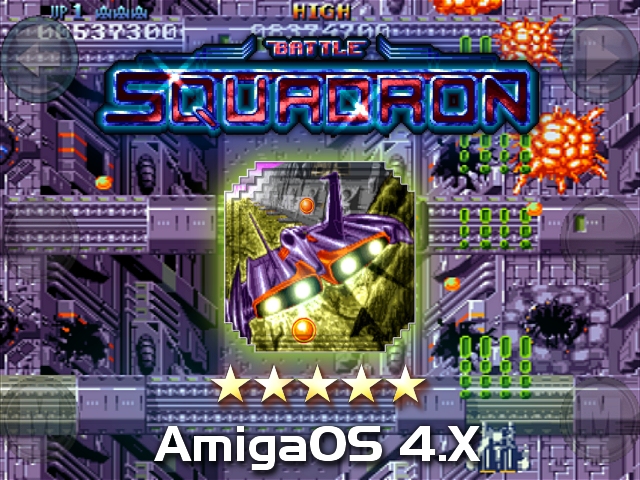 Battle Squadron was originally developed by Cope-Com for the Commodore Amiga Home Computer in 1989 and received numerous awards making it an instant Amiga Classic. In 2011 Come-Com released Battle Squadron for iOS mobile devices, and in 2012 for Android with our partner GoldenCode.eu.
We are now happy to announce that together with our partner GoldenCode.eu we are returning to the Amiga… making Battle Squadron available on Amiga OS 4.X, in addition to Mac and PC. Battle Squadron is available through both digital download and a pre-order special collectors edition with the signature from the original developers and the coder making it possible to return to Amiga OS 4.X.
The collectors edition contains all desktop versions: Amiga OS 4.X, Mac, and PC. The new desktop version is an exact replica of the original famed Amiga game, just as it was for iOS and Android. In addition, the desktop version has great new features… still matching the original retro style.
I'm definitely going to get this one, no doubt about that.

Anyone else out there hungry for this game?
Have a good evening and thanks for reading!