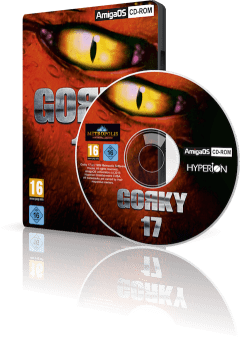 Brussels, March 20, 2017
Customers not being able or willing to buy a physical copy from an Amiga dealer can now purchase this purely digital version from everywhere in the world at a price of EUR 24.95 incl. VAT*. The downloadable content consists of an archived game drawer including all languages and manual. Just extract and run… "AmigaOS style" :-)Purchasers of course also get a serial number by email to register their purchase at our website in order to get access to our restricted download area for possible updates and backup copies of the game archive as well as the original ISO.
For existing customers of Gorky 17 we also made an updated installation script available from our restricted download area, which fixes installation issues on Update 1 of AmigaOS 4.1 Final Edition.
Gorky 17 is a horror conspiracy game mixing elements of strategy and RPG gameplay. You, the player, command a small group of NATO soldiers who must reveal the mystery behind the sudden appearance of hybrid creatures in a small Polish city named Lubin. The game was originally released in October 2015 for AmigaOS 4 by Hyperion Entertainment CVBA.
* may very depending on your local taxes