Games galore #16: Putter, Heart of Darkness, Super-Go-Down-The-Hole, Space Invaders, Inca Man
When I last said it'd become hard to keep up with Amiga gaming news, it was a little bit tongue-in-cheek. By now it has become genuinely - and enjoyably - hard, with projects and announcements popping up more frequently than the average "Games galore" hobbyist writer is able to update his articles.


Putter (demo)
From the author that created "Chicken Coop" comes another good looking game that involves a frog, and what appears to be soccer plus golfing. 
Built using the RedPill engine, in this game developer "Czorny" lets you control the aforementioned frog in order to kick a soccer ball around the playfield into a hole - kind-of like golfing, only with a vertical jump-and-run playfield with bonus items, obstacles and enemies. 
The word "enemies" is a bit of a stretch here - everything looks really adorable, you'll encounter cute fish and a bird, with minimalistic but very funny and fitting sounds (applause!). This should be well suited for the smaller ones in the family, while still being good fun for grown ups.
Watch "Putter - demo" video (2020-12-10):
For more information check out the forum thread:
https://www.ppa.pl/rodzynki/putter-wersja-demonstracyjna.html

Additional sources:
http://amiga-news.de/en/news/AN-2020-12-00024-EN.html
https://www.ppa.pl/rodzynki/chicken-coop.html
http://www.indieretronews.com/2020/12/putter-charming-little-arcade.html

Heart of Darkness
If you're an 68000 plus OCS purist, then this is not your favourite game. But if you're into heating up your 68040, or the likes (fast WinUAE counts, too), you're gonna want this.
While the Amiga purist scene is exploding with new releases, fueled even further by modern game construction kits like Scorpion and RedPill engine, it's become comparably silent on the next-generation-Amiga side of things, so high-spec game releases are a welcome sign.
"Heart Of Darkness" is a huge 90s era game ported to the Amiga, that requires some horsepower, and the original PC/Playstation game files (full game, or demo). It's a side-view adventure type game similar to "Another World", but has far more advanced graphics and sound, and truckloads of both. 
You control character Andy on his search for his dog Whiskey through the various places of "Heart Of Darkness", avoiding evil shadows, solving puzzles, wild animals, and other obstacles.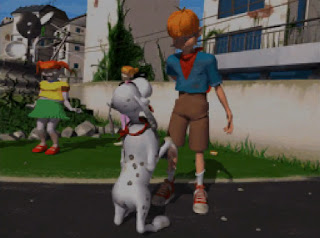 Cinematic movie sequences...
In terms of gameplay, "Heart Of Darkness" is a well known concept, but visually it's certainly another world (...pun...), it's been a long time since such highly elaborate graphics were seen in an Amiga game. The 3D rendered characters don't look scary, but actually likeable, the 3D animators did a great job, and the game characters and backgrounds are just beautifully detailed and animated, along with some handdrawn cartoon effects thrown in. It's a cinematic experience that comes pretty close to playing a part in your own animated feature film.
Great job by the original deverlopers, as well as the Amiga porters. If you have lots of harddisc space, and a fast Amiga (or Vampire or WinUAE), "Heart Of Darkness" is a must-have.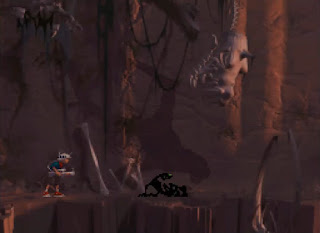 ...and high quality animations
Click here to download "Heart of Darkness":
http://netsurf.baderman.net/HeartofDarkness.lha
NOTE: requires original game files (from PC installed full game or demo, copy entire folder to Amiga), and powerful CPU. see sources below for more information.
Additional sources:
https://en.wikipedia.org/wiki/Heart_of_Darkness_(video_game)
https://www.myabandonware.com/game/heart-of-darkness-a4h (PC version download)
https://eab.abime.net/showthread.php?t=84905 (Amiga version forum thread / instructions)
http://www.indieretronews.com/2020/11/heart-of-darkness-on-amiga-high-en...
Super-Go-Down-The-Hole
Eric "earok" Hogan has released another game created using his Scorpion engine, called "Super-Go-Down-The-Hole", which is a remake of a PC title by Sergio Cornaga. 
Jump, climb, slide, push, run - the game mechanics are a little bit more sophisticated than your average platformer, and you have to "Super-Go-Down-The-Hole" a hole, which means a cave, figuring out the best ways to avoid obstacles and enemies.
Graphics are simple, but nice and effective, as are the sound effects, with a pretty accurate recreation of the original PC game's music playing along (which probably was played by a MIDI soundcard on the PC). The game requires an Amiga 500 with 512KB ChipRAM and 512KB SlowRAM or better.
Note that "Super-Go-Down-The-Hole" was released beta status - by the time you're reading this there's probably an updated version available, see "Additional sources" below (e.g. EAB thread).
Watch a video of "Super-Go-Down-The-Hole" (2020-12-23):
You can download "Super-Go-Down-The-Hole" from earok's website:
http://earok.net/games/sgdth/sgdth.adf
Additional sources:
http://eab.abime.net/showthread.php?t=105116 (game download adf / lha / iso)
https://sergiocornaga.tumblr.com/post/7416495044/you-have-to-go-down-the...
http://amiga-news.de/de/news/AN-2020-12-00078-DE.html

Space Invaders
This title sounds familiar, doesn't it? Around December 2020 this new recreation of arcade super classic "Space Invaders" popped up. It's written in BlitzBasic, and the developer's goal is to recreate the original arcade cabinet experience on the Amiga as good as possible.
Meanwhile a couple of updates were made to the game, including "emulation" of the arcade screen overlay that kind-of adds more colors to the game screen.
Well, it's a classic, everybody likes "Space Invaders", and this is a near-perfect implementation. Certainly another entry in the growing list of great new arcade game remakes for the Amiga, created by true enthusiasts, filling the gaps when there wasn't a port before, or surpassing previous efforts.

You can watch a video of "Space Invaders" on Saberman's awesome YouTube channel:
Check the EAB link below for latest updates, and download links:
http://eab.abime.net/showthread.php?t=105132
Additional sources:
http://amiga-news.de/en/news/AN-2021-01-00074-EN.html
http://www.indieretronews.com/2020/12/space-invaders-amiga-arcade-homebr...
Inca Man
And here is yet another good looking platformer game, from Dec. 2020, created by Amiten team from Spain.
The "Inca Man" has to collect diamonds in the numerous single-screen levels of the game, while avoiding enemies and collecting bonus items. When all diamonds in a level have been collected, a little door opens through which the neat looking player sprite can escape to the next level.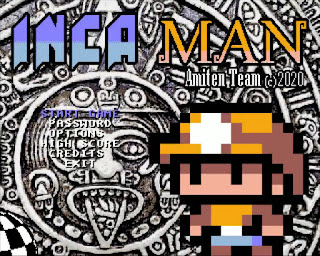 Inca Man title screen - you should see it moving
This has quite a BoulderDash-esque appeal, and indeed not only the diamonds, also the pacing is reminiscent of the classic. In other words: "Inca Man" plays great. But of course it's a different game - a side-view jump-and-collect platformer, with it's own really nice visual style. It also looks fine, and has a really fitting soundtrack with epic title theme, and driving arcade-style in-game music plus soundeffects. A password system helps you save your game progress, and there are two two-player modes: cooperative and versus. 
"Inca Man" requires an Amiga with 1MB RAM to run. The game is nearing completion, and should be available soon.
Watch "Inca Man" presentation video on Amiten TV's YouTube channel:
If you want to know more, visit Amiten's facebook pages and their website:
https://www.facebook.com/groups/clubamiten
https://www.facebook.com/Amibroadcaster/
https://www.amiten.es/
Additional sources:
https://www.amigafrance.com/forums/topic/incaman/
http://amiga-news.de/de/news/AN-2021-01-00015-DE.html
* * *
Thanks for reading! Stay tuned for "Games galore #17"!
* * *
Support Amiga game development!
Buy a game!