AmigaOS 3.2 Native Developer Kit updated, release 3
Hyperion and the team of AmigaOS 3.2 developers show their dedication with an updated release of the Native Developer Kit.
The new NDK was released on June 30th 2021. According to the file description, it improves compatibility with different compiler environments. Also there seem to be "strategic" changes, simplifying future updates (see "ReadMe" picture below).
Probably not directly related to the NDK's contents, but also mentioned in the file details is what appears to be a new strategy of distribution with wider availability through additional sources.
Whatever the case, this is certainly another welcome update, and a must-have for all Amiga developers.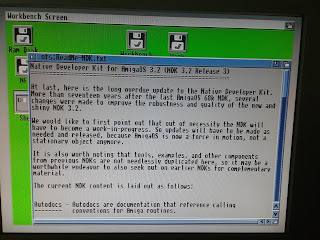 A look at the NDK3.2R3 ReadMe file
Go to Hyperion's website to download AmigaOS 3.2 Native Developer Kit release 3:
https://www.hyperion-entertainment.com/index.php/downloads?view=files&parent=40