ZZ9000 and ZZ9000AX cards on Amiga 2000
 After a long wait, I finally got my MNT ZZ9000 cards this week - one Zorro 2 card for my Amiga 2000 and a Zorro 3 card for another Amiga to be decided!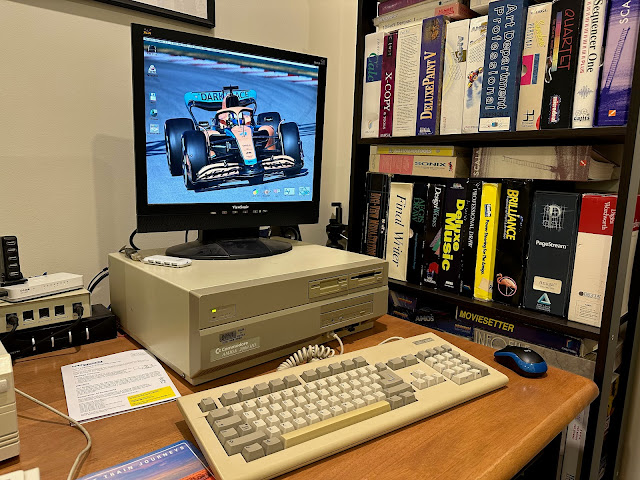 There is also an optional upgrade available that I also bought, which is an Amiga Audio module called ZZ9000AX. This module connects to the ZZ9000 card. This audio module expansion opens up audio features such as hardware MP3 playback on the Amiga using MHI drivers, and passthrough of the native Amiga audio and MP3 playback via the same audio output. Features are (taken from their website):
High fidelity  Analog ADAU1701 audio codec with 28/56-Bit SigmaDSP® processor

16-bit (per channel) stereo sound output at 48000 Hz (DAT quality)

Mix in and enhance Amiga Paula audio and/or analog CD Audio

16-bit stereo sampling

4x RCA connectors for line inputs and outputs

AHI driver

Add dynamic effects like graphic EQ or chorus and create your own DSP programs with free Sigma Studio software (on Windows)

Active op-amp output filter stages

4-layer design with solid ground planes for optimal signal quality

Open source drivers and firmware, PDF schematics

Additional features and capabilities will be available via ZZ9000 firmware updates (for example MP3 decompression)

Includes all required cables to connect to ZZ9000 and a steel slot bracket.
For me, the MP3 playback in hardware and graphics card features (including merged native amiga video scan doubled passthrough) were the big attraction. I already have X-Surf 100 and Rapid Road USB for my big box Amigas, so the Ethernet and USB features of the ZZ9000 are not needed for me.
Given the USB support on the ZZ9000 is limited and very beta at the time of writing this blog entry (and doesn't play nice with Poseidon), it was probably a good thing I didn't need that.
I ordered two cards, one flashed with the Zorro 2 firmware for my Amiga 2000, and one flashed with the Zorro 3 firmware for one of my other Amigas, to be decided later on. The ZZ9000 card starts from EUR389 and the Amiga Audio Module EUR99 (As of when I wrote this blog entry).
Today I am focused on the setup on my Amiga 2000.
Like many people, I ordered these cards a very long time ago, and have been patiently waiting for the makers to secure the parts they needed to make the boards and ship them out.
I got mine this week, and at first I was very worried given the poor packaging used for the products for their trip to Australia, and also the strange food that was attached to the boxes, which were in a sealed bag. Below is exactly how they looked when I removed them from the UPS bags...
Note to the vendor - you need to improve the packaging. Oh, and please don't eat your food while filling the UPS bags with the boxes in future...this was really disgusting. (I am assuming it is food....)
I gather from other people that their boxes were also squished so I was not alone with that. With the disgusting boxes gotten rid of, I moved on and got all the contents out and hoped they were undamaged:
Below is the main ZZ9000 Card with the bracket (Revision 3) as delivered:
For Amiga 3000, 4000 systems the video slot is inline with the Zorro slots. On the Amiga 2000, the video slot is on the other side of the motherboard. I will show this installation later in this blog post.
The Amiga Audio module includes a number of cable to connect to the ZZ9000 card. 
Following the instructions carefully, I set to work to connect up the ZZ9000CX and ZZ9000AX modules to the main ZZ9000 card:
This Amiga 2000 currently has a lot of upgrades in it:
Our family and myself have owned this Amiga 2000 from new in 1991 (purchased in Perth at Bruining Headlam computers), and I love having this computer still actively in use in 2022! :-)
You can also see the two switches on the back for the kickstart switch (1.3/3.1/3.2 and to enable/dsiable 2MB memory on the 030 accelerator board). 
My existing X-Surf 100, Rapid road USB and SCSI2SD module are also visible, along with the serial port connection to my MIDI port expansion.
Even though Picasso96 is already installed on my Amiga 2000 for the Picasso IV card, I need to update the installation from the original Picasso96 installer to select a specific graphics card, so the correct monitor file is created in Devs/monitors. This is needed by the ZZ9000 installer, so this must be done first.
I discovered this the hard way, as I was arrogant to think I could do it without doing that and just copy the files I needed across. You can't, don't do it.
So I reinstall Picasso96 (you can get from Aminet or buy the newer P96 from Individual computers). I needed to select the Altais card as the graphics card, as per the instructions. I apologise for the poor iPhone screen photos here, but I was in a bit of a hurry. 
I pressed on with the installation.