Seasons Greetings
Posted on:

20 December 2014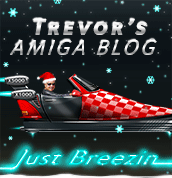 With the Christmas season almost upon us it's time for a little Winter/Summer cheer. Those clever developers at EntwicklerX (Frank Menzel & Thomas Claus) have worked their magic once again to further optimise the composite engine driving the Workbench CANDI animations.
The result is an improved graphics performance at a much lower CPU load. Better still they have added special Christmas and Space themes to the WorkBench CANDI package. Check out the video link for a quick preview of all the Workbench CANDI animations. All registered owners of the current version can obtain the new version free of charge from AMIstore.
Video link:  Workbench CANDI compilation
Getting Personal (Paint)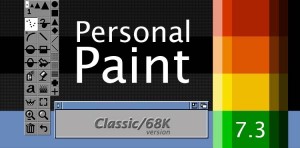 In keeping with the Christmas spirit I am pleased to reveal that Andy Broad has completed the first update to Personal Paint 7.3 for the AmigaOS and AmigaOS 4.1. Following Cloanto's tradition of adding a letter to designate the update status, the new version, Personal Paint 7.3a squashes a few bugs and adds a couple of new features. Personal Paint 7.3a will be available for download via AMIstore and of course registered owners of version 7.3 can obtain the upgrade free of charge. Staying with Personal Paint AmigaKit is now including a fully licensed copy of Personal Paint 7.3 for AmigaOS 3 computers on its 4GB IDE CF Hard Drive package and don't forget the earlier version of Personal Paint 7.1c is still available to download free of charge from PPaint.com.
One of Personal Paint's strong points is its ability to easily create GIF animations. Now YouTube is getting in on the act and is launching an experimental GIF maker which allows you to create a 6 second GIF animation from a YouTube video and share the animated GIF you have created. There was a beta sign up page for users with channels to test the new feature but this has been fully oversubscribed and YouTube are no longer accepting applications. Of course there are already a lot of websites dedicated to creating a GIF animation from YouTube videos but it looks like YouTube's new GIF maker will become the future standard. Fortunately Amigans don't have to wait for YouTube and can make full use of Personal Paint's superior GIF animation compression algorithms which are designed to provide maximum compression without sacrificing compatibility with the most popular browsers. I wonder what Personal Paint GIF animations you will make? Now there's a challenge!

Unblocking your creative talent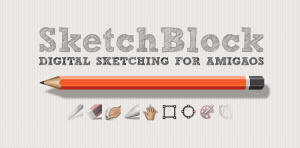 As well as updating Personal Paint, Andy has been adding more features to Sketchblock, his own 24-bit graphics program. To demonstrate Sketchblock's advanced features he has created a festive video of Sketchblock Lite in action running on an AmigaONE X1000. Check out Andy's video to find out who is that person behind the beard.
Expect to see updated versions of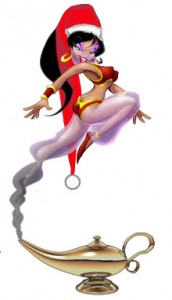 Workbench Candi, Personal Paint and Sketchblock available to download via AMistore in the near future, as well as a lot of other cool software for the AmigaOS and Amiga-inspired systems.
All that remains is to wish you all a very Merry Christmas and Happy & Prosperous New Year from EntwicklerX, A-EON Technology, Andy Broad, Genie and me.