AmiKit XE 11.6.1 on Windows 11 and MacOS Monterey
 As you may know, I previously covered the installation of AmiKit XE 11.5 on my Raspberry Pi 400. 
Now though, the Windows/Mac/Linux version of AmiKit XE has been caught up to the Raspberry Pi version, and now a little beyond too, with the support of AmigaOS 3.2.1 under AmiKit 11.6.1! Let's take a look!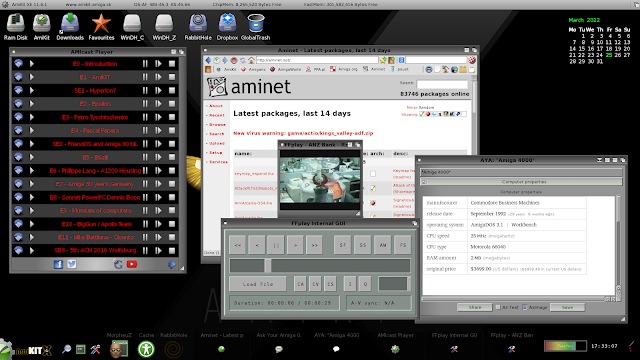 With the purchase of my new Alienware R12 just prior to Xmas last year, it seems a great opportunity to install the latest AmiKit XE on my Windows 11 machine!
I should mention up front that I am a beta tester of AmiKit XE, and as such I now get access to newer versions from the author prior to release. To be clear I am not paid for this beta testing work or for doing these reviews, so I will still say what I really think in regards to AmiKit XE. 
AmiKit XE is a commercial product, and if you want the latest version you need to purchase it. It is available in a number of purchasing options starting from EUR29.95, and all include the updates for the period of the subscription.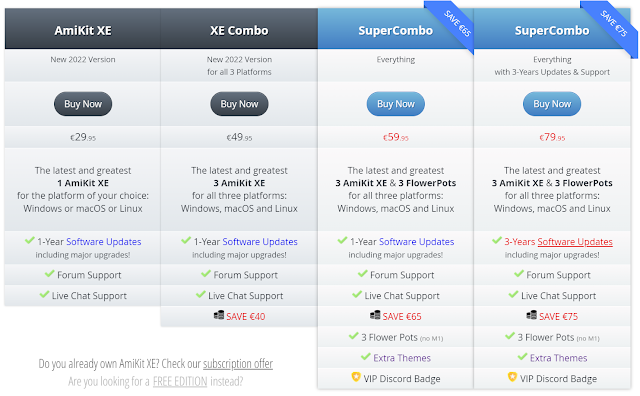 If you run on more than one platform, the Combo editions are worth considering as they work out cheaper - you can also get FlowerPot, which allows you to easily install and run AmigaOS 4.1 final Edition Classic on your modern machine! I have looked at that on this blog previously here.
There is also a
free edition version
 of AmiKit you can get which is a few years old. Please note that the free edition version won't be able to run AmigaOS 3.2 as we are going to be doing today with the latest version. 
The free edition version is a nice way to check out AmiKit and decide if you want to pay for the latest version - it is nice to pay a small amount to support the developer if you don't plan to upgrade to the latest subscription based version, and the suggested support options
are presented on the page
.
Moving back to the installer - let's get the AmiKit XE environment installed under Windows 11: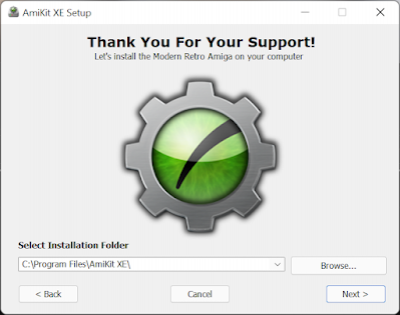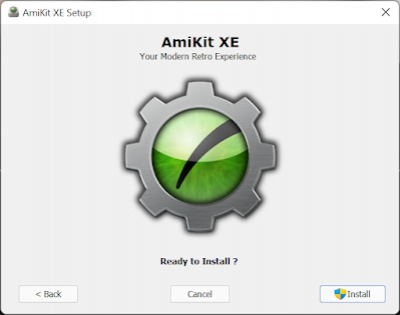 The installation process is painless, and easy to walk through. You do need a legal copy of Amiga Forever installed already (you can also provide the iso for Amiga Forever). 
You need Amiga Forever even if you plan to run AmigaOS 3.2. This is because AmigaOS 3.2 is installed as an upgrade after the initial installation of AmiKit XE.
With that done, I run Morpheuz and select the Install AmigaOS 3.2 option.
It is a shame this expensive computer is the only Mac Apple makes with this expandability.
That said, I am glad to have it and the Pro Display XDR - the 2020 Mac Pro is a stunning machine and amazingly well built.
Once again, a useful Quick install guide is included.
Testing it with some demos shows AmiKit XE 11.6.1 works well on my Mac Pro, even with the more taxing later TBL demos like Starstruck.
You can of course load ADF files into WinUAE to load your favourite games with a customised Amiga 500 setup in WinUAE rather than using the AmiKit XE workbench setup, or alternatively download and install WHDLoad games runnable from the AmiKit XE workbench.
If you go down the customised A500 setup in WinUAE route, it runs very well indeed in testing on my Mac Pro. Here are the settings I used if you are interested - I wanted this for running demos and games that needed the original A500 system setup to work correctly. I think including this Amiga 500 configuration in the future versions of AmiKit XE might be a good idea to consider to save users having to create it themselves:
Here is my Amiga500 customised setup running in WinUAE on the Mac Pro:
A bit of Shadow of the Beast I think :-)

As an aside on the ADF functionality, the A500 Mini is due for release soon, but
from the reviews I have seen so far
, it is meant for Amiga 500 fans who are predominantly interested in the specific included games, have only really used Workbench 1.3, and don't know about or want to run the later AmigaOS and upgraded system setups we all really enjoy today. 
The A500 Mini apparently can't currently even load ADF games at this time, only WHDLoad games and WHDLoad demos, which was a big surprise to me. I have ordered one, but starting to wonder if it was the right decision! AmiKit XE 11.6.1 offers so much more features and functionality than the A500 Mini, for much less money. 
Moving back to AmiKit XE, I then did some playing around with the Native display filter settings to run AmiKit in full screen on my Mac Pro. 
It can look pretty cool like this on the Mac, even with native mode having to scale so much to fill the huge Pro XDR display!
Using the filters to auto resize and keep aspect ratio is better of course, as it keeps the games and demos in the right 4:3 proportions, even if it doesn't fill the screen - here is the very excellent "Technological Death" demo by Mad Elks from 1993:
I don't think the D3D filter settings do much in my testing when run on the Mac (given it is running under Wine and Direct3D support is restricted), but under Windows of course the D3D filter settings make it look even better.
I tried playing around with using 6K uaegfx screen mode for the AmiKit XE RTG workbench screen resolution, but that didn't work.  
If you do this screenmode change yourself (like I did) and can't see AmiKit Workbench anymore after rebooting, to fix it, just hold down both mouse buttons when starting the emulation, select boot no startup in the Amiga emulation, and delete the envarc:sys/screenmode.prefs file as below: 
On the next reboot of the emulation AmiKit XE will prompt to set the screenmode again and you can then fix it!
After that, I decided to leave it at the recommended 1920x1080 screen mode, as per the instructions. Heh, I really should pay more attention to those!
AmiKit 11.6.1 is an excellent product and well worth buying for anyone who wants to experience a top spec Classic Amiga on their modern Windows 11, MacOS or Linux computer, or indeed a Raspberry Pi system. It is so much cheaper and easier than buying increasingly rare and expensive Classic Amiga hardware, Accelerator cards, RTG cards, network cards, and not forgetting of course the huge amount of work to set it all up to look this good, all ready to use! Highly recommended.