Checkmate 1500 Mini case build with Pi4B and Greaseweazle V4
Recently I have been working on another new build project, this time using the recently released Checkmate A1500 Mini case, running a Raspberry Pi 4 with AmiKit XE.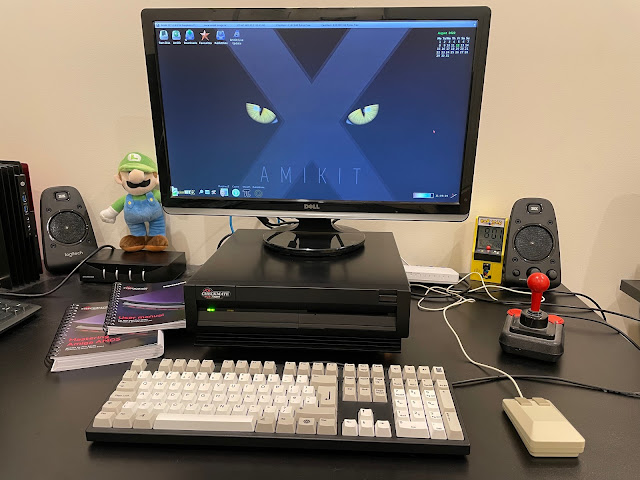 First up I have to thank Steve Jones from iMica for kindly supplying me the Checkmate 1500 Mini case and some accessories for me to review and play around with!
I opted for the Black Van Helsing pack, which is intended for installation of the Raspberry Pi 4B and includes all the fittings needed (minus the Pi 4B itself). 
You can also choose other packs, which are setup with the parts needed for installing FPGA based Amiga systems like UnAmiga, Mister, and if you are lucky enough like myself to have a AmigaOne A1222 to play with. You could also put in a Mini-ITX Windows/Linux PC and run Amiga emulation on that. 
The larger Checkmate 1500 Plus case is still available for adding in Classic Amiga system boards (like Amiga 1200, 500, etc), and larger PC motherboard build projects.
If you want a small computer garage to tidily store your All-In-One Amiga 1200/500/C64/Atari ST/etc under a CRT or other monitor, iMica is also selling a solution for this too.
Steve and his team are working on some other interesting projects too, including the upcoming Checkmate Monitor 1087s and 1089s, with a Kickstarter on it's way soon (Image above and below used with permission):
For now though, I turn my attention back to the Checkmate 1500 Mini case build.
The package I selected was delivered to Australia very quickly in this impressive box:
Previously in 2019, I purchased and built out the full Checkmate 1500 Plus case, and I have done many projects with it since over the years, with Vampire, Pistorm upgrades and many more.