Amiga 4000T Upgrade Part 1 - AmigaOS 3.2.2, ZZ9000 and Apps
Ask yourself a question. If you could have the ultimate Amiga, what would it look like?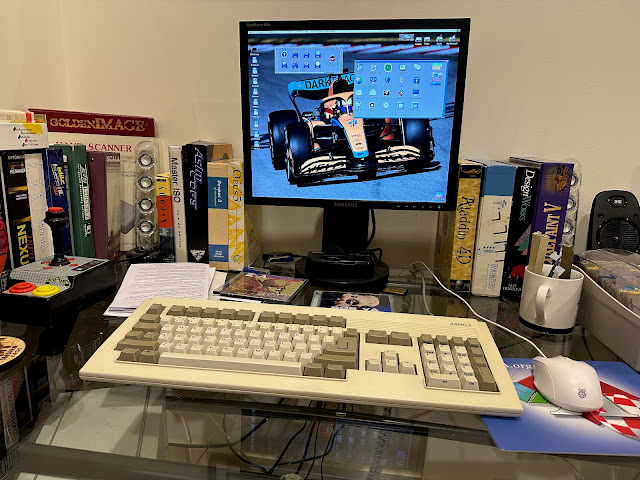 Would you get the most popular Amiga 500 and upgrade it with ACA500 Plus and other goodies? Make the ultimate games machine with iGame launcher? Put a Pistorm in it for RTG workbench and increased  performance?
Perhaps grab one of the originally unpopular Amiga 600 computers and upgrade it with the myriad of amazing internal upgrades that turn it into a really amazing computer? Maybe even Vampire it and have HDMI RTG workbench?
Perhaps you like Amiga applications as well as games, and prefer a big box Amiga for this software and to upgrade with Accelerators, RTG cards, USB, network, Video toaster cards. Perhaps an A2000 build like here and here, or A3000 build (like I did here, here and here), or perhaps even a A4000D?
Maybe you want to keep the Amiga hardware completely stock standard, and enjoy how it is with no upgrades - just enjoy your Amiga 1000, 2000, 3000 or 500 as-is with floppy disks, and experience the nostalgia of an era of gaming and demos that was truly awesome.
For me, I LOVE upgrading and playing with my Amigas. All of them. 
Asking which Amiga I like best is like asking which of your children is your favourite...I love them all.
The reason I love upgrading and tinkering with Amigas so much, is that it is the final realisation of many dreams I had as a teenager. Maybe it is the same for you as well.
I still remember clearly looking with jealousy at all the upgrades and software I could never have on the store shelves at Myer, Kmart, Bruining Headlam computers, Valhalla, and electronics shows in Australia too.
The Amiga software and hardware upgrades kept coming, even after Commodore went bankrupt. 
Amiga got PowerPC accelerators, Warp3D, Picasso IV RTG cards, USB cards and driver support, CD Burners, Network cards, Internet browsers, FTP and telnet clients, Remote Desktop/VNC, MUI, AmiTCP, games and applications needing 030 and 060 accelerators, Geek Gadgets for Linux application cross compiling on AmigaOS, AmigaOS 3.5/3.9, AmigaOS 4.0 and MorphOS for Classic Amiga PPC, and so many more.
In more recent times, AmigaOS 4.1 Final Edition Classic for PPC Amigas (Classic and NextGen), AmigaOS 3.2.2 for standard Amigas, Gotek floppy drive emulators, ZZ9000 RTG cards, BFG 060 accelerators, Vampire accelerators, Pistorm, MP3 hardware decoders, AmigaOne Sam 460/X1000/X5000, and more. The innovations and new software releases continue in 2023 for Amiga.
Be still my wallet. The Amiga is a demanding mistress.
For me, I dreamed to own an Amiga 4000T ever since I first read about it in Amiga format and CU Amiga back in the day. 
The A4000T was the top model released by Commodore just before it went bankrupt in 1994, and subsequently re-released by Escom as an 060 based A4000T with a new Amiga logo until 1997.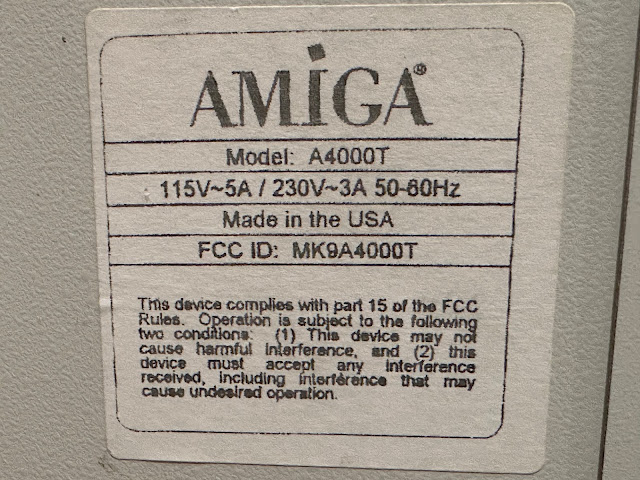 I could never hope to afford one. They cost more than $4000 even then, just for the base machine. Today, the prices for an Amiga 4000T are just plain scary.
After the trauma of owning an old second hand 386DX40 clone MS-DOS/Windows 3.11 PC for two years with no Amiga (the Amiga 2000 was still with my parents then), I finally bought an Amiga 1200 in 1996. 
This was achieved from putting money aside while working a night-fill job at Kmart 5 nights a week while full time studying IT at University and paying all the usual bills! 
Upgrading the Amiga 1200 with an 030, SCSI, Zip drive and CD-ROM drive (and later towering it as shown below) took all of my money and then some. I had little money to spend on software, so I had to choose only a few items to buy, and missed out on so much. 
Cover CD's on Amiga Format and CU Amiga helped a lot in that period, along with Aminet downloads via internet 56k dial-up modems (remember them?) to try out new software inexpensively.
I picked up other Amigas from second hand stores in the late 1990's, in an era when no-one wanted them and they were not "retro". Most I got for $20-$50 - my Amiga 500, 600, A1000, and CD32.
If you think that was just a 1990's thing, it isn't. Go take a look at the price of a Nintendo Wii or Sony PSP today - no one wants them. You can buy one for $20 and sometimes less. I bought a Wii to get software I never tried on it, which sells for $5-$7 each now, and also try out running linux on it! 
There is a period that no one wants these old systems and they cost almost nothing. Eventually people get nostalgic about them and they become "retro" and increase in value as the rareness increases over time due to them being thrown out.
As Amiga faded from the general public view in the late 1990's in favour of PC's and Macs, Amiga software was still being released at a slower rate, but now required higher hardware specs than I had.
I was frustrated, but I had come up with a plan.
I picked up a PowerMac 6100AV (my first ever Macintosh) courtesy of a university clear out of old hardware in the late 1990's. I played with it for a bit, and then sold it on for a profit on eBay as I had little interest in anything that was not an Amiga back then. 
This was the first time I had sold anything on eBay, and I was impressed I could make money from a computer - I assumed they always lost value!
I did the same with other computers I bought second hand (in the late 1990's) in the early 2000's - C64, Amstrad, Atari, 3D0, PC and lots of other systems. I got some old laptop computers for free from work too when they were end of life and they just wanted to get rid of them. 
I kept them for a while and sold them on as they appreciated in value. If I knew how much some of them were worth now I definitely would have kept them longer!
The aim of selling them of course was to build a fund to buy my dream Amiga 4000T. 
By then Escom had folded, and A4000T's were no longer available new. Remaining stock then sold out. I had to act quicker or miss out entirely.
In my desperation I even sold off some of my Amigas too, including my Micronik tower converted Amiga 1200, A600, A500 and A1000 too.  
I reasoned they would be easy to buy again as there are more of them around. I had picked up some Amiga Technology A1200's from a G-Soft store clear-out of Amiga stuff. I also sold them on, keeping one for myself.
It took 4 years of selling computers and saving money from working while paying off loans, but in 2004 I finally got the money together to buy my Amiga 4000T. It was advertised on Trading Post (a long gone local newspaper that was for selling items) from a Queensland seller.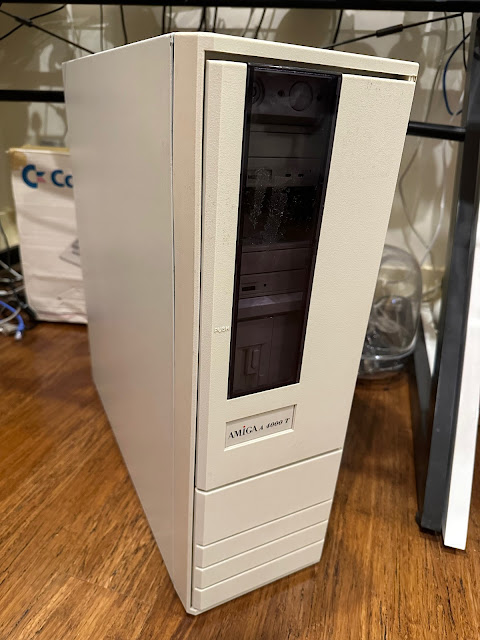 I was so happy to finally get one, even though the previous owner had definitely not been kind to it. 
Given the sacrifices and years of hard work to get it, I will NEVER, EVER, sell it. 
I was determined to upgrade my A4000T with all the hardware and software I had ever wanted to buy for the Amiga.
For my Amiga 4000T, I saved up some more over the following years and slowly added: 
But it turns out I was very wrong about that.
I never had or used a tape drive on an Amiga, or a SCSI scanner, a CD burner, or used a decent laser printer with it. There were many applications I had never owned, that I still wanted to try on Amiga. 
I saw videos lately from people trying some of these features out, and realised I just had to try it on my Amiga 4000T as well.
In addition, the release of the Zorro 3 ZZ9000 RTG card with HDMI output, USB and network interface added a new hardware upgrade I wanted to put on my Amiga 4000T, along with the upgrade of the kickstart roms to the latest AmigaOS 3.2.2 in 2023. I also wanted to rebuild my hard disk. 
So this is the first part of a new series of blog posts on the next phase of upgrades to my Amiga 4000T - the ongoing realisation of a dream!
I ordered a IDE to CF card converter, AmigaOS 3.2.2 kickstart rom set and IDE cable from Amigastore.eu.
There is also an unsightly cable I have running from the AUX in port on the Soundlbaster 128 PCI card which connects to the standard Amiga audio RCA ports. This routes the native Paula Amiga audio output into the sound card so I can hear it via the sound card output, mixed with the ahi and CD output. Otherwise I would need an audio switch box to switch between them.
Opening up the Amiga 4000T reveals a mess of SCSI, IDE and floppy cables that makes it hard to see what is actually in there!
With the ZZ9000 and ZZ9000AX, it replaces the need for all the PCI cards I have in here! The Voodoo 3 PCI, Soundblaster 128 PCI and Realtek 8029 PCI network cards are no longer needed. One card replaces them all! Moving away some of the mess of cables makes it a bit easier to see the bridge board and the PCI cards installed.
These edges cut my hands so easily, and have several times. It is a terrible thing - I really should cover the super sharp edges in electrical tape. Just afraid of cutting myself again while doing it!
This means that the kickstart roms are specific to this model, and that is why you can't use the A1200/A4000 kickstart roms in the A4000T. 
So, I ordered the specific Kickstart 3.2.2 roms for the A4000T model, and set about installing them into the A4000T.
Recently, the new 3.2 rom chips just state HI or LO on the label, which means nothing useful to me when trying to work out which socket they should be installed in! 
Seriously, for vendors - please include instructions with the kickstart roms to identify which socket they go into.
Or better yet, put U176A and U175A on the rom label itself...What the hell is HI and LO anyway?
For those who want to know, the HI chip goes in the U175A socket on the A4000T. The LO chip goes into the U176A socket. I include the close up photo above to make it clearer still.
With that done, I turn my attention to the Deneb USB Zorro card I have in the A4000T.
I will need to install the Deneb drivers and Poseidon setup, which is stored in the Deneb card itself. It is accessible by closing the jumper set on the board near the zorro connector to Rescue mode (RES). The instructions are printed on the card to help out. I have done it below.
I then use a HDMI to DVI cable to connect it to the monitor.
A great thing about the ZZ9000 is the scan doubler option which allows it to scan double and pass through the native Amiga video via the HDMI port on the ZZ9000. This means I no longer need two screens!
You can even potentially use this with an Amiga 500 which in a desktop case like the checkmate 1500 plus with the zorro backplane adapter attached - it requires a separate ZZ9000 part for this to work on the A500 and I have not tried it myself, yet. (I do have the part though)
Here is the scan doubler native video module connected to the main ZZ9000 card:
Curiously I have to locate the audio card section of the ZZ9000 to the slot below the card itself, due to a silly design flaw in the A4000T which provides no securing screw hole for the 2 video slots. Seriously, why?
I power on and I didn't need to worry about that at all - the ZZ9000 scan doubled HDMI to DVI output works perfectly.
Amigastore.eu included the contents of the AmigaOS 3.2.2 CD on the CF card to make life easier, along with WHDLoad and some other utilities like DOpus, etc. I copied the Deneb Install drive contents from the flash drive to the CF card so I have a backup on the disk. Once I switch the Deneb to non-rescue mode I can't see it.
I then install the Deneb drivers:
There is a clockport on the Deneb also, and in the past I used to use a MP3 decode hardware Dlefina sound card via this port. Sadly it blew up spectacularly on a recent project...
Anyway, I need to select a card you don't have in the A4000T but is likely to have drivers support for the clockport on. The Deneb then pretends it is that card for the purposes of the clockport device driver you want to use for the device connected to the clockport. Very clever. 
I already have a Buddha flash installed, so I select X-Surf since I don't need a network card with the ZZ9000 installed.
The installation then completes.
As an aside, I mentioned earlier about being able to modify the contents of the Deneb flashrom. You can do this using the Luciferin tool installed with the Deneb tools install we just completed. You can load the A1000 jingle so the Amiga 4000T makes the A1000 boot noise on power on. Nice.
I can't modify the contents of the flashrom right now though as the Deneb card is in Rescue mode.
Next up is installing the Poseidon USB stack software to work with the Deneb.
At this point I decided to press on with building the AmigaOS 3.2.2 hard disk on the CF card, and come back to the data transfer another time. I put the original 64GB sd card back in for now.
I picked up AsimCDFS boxed application recently, and was keen to try it out. Previously I used other free drivers from Aminet and this is the first time to have a commercial CD driver product to try out.
I then did a ping test on the network via the AmigaShell and confirmed the network port on the ZZ9000 card is also now working under AmigaOS 3.2.2. Excellent!
I adjusted the AHI settings to use the ZZ9000AX module instead of native Amiga audio. This means with the supplied MHI driver for the ZZ9000 AX, I can use hardware MP3 decoding through MHI enabled applications like AmigaAmp and the latest Hippoplayer version, which now supports MP3 playback.
I also enjoyed some modules too.
One of the example database programs included with Twist 2 is an Aminet CD Database searcher - I inserted one of my Aminet CD's to try it out:
Anyway, Maxon Magic provides a much slicker interface and easily customised to your preferences.
Next I installed SCALA MM400. I have the original box, manual, software and dongle to connect to the port on the back when running it, not a dodgy hacked version. So hard to use these applications without the manual.
Next I played around with World Construction Set. The initial render was tiny:
Just before completing this blog post I also received Photoworx, an application that allows you to read the contents of PhotoCD discs and view the images on the Amiga. 
Actually, I only have one PhotoCD. I think it is quite rare and hard to come by. I found it in a Salvos second hand store in the cd section for 5 cents many  years ago now. It didn't play for them since it is not an audio cd and no one there knew what it was - they were happy to get rid of it.
I did know what it was though. It was a special PhotoCD issued as a gift from Marlboro as the primary sponsor of the F1 Mclaren team to their staff or maybe Ayrton Senna himself back in 1993. 
The PhotoCD was to celebrate my childhood idol Ayrton Senna's final race for the team in Adelaide, Australia. It includes photos of Senna's time with Mclaren from 1988 to 1993.