ROG Ally handheld Gaming PC has arrived
Pleased to say that my Republic Of Gamers (ROG) Ally handheld PC has arrived as my early birthday present to myself! Let's take a closer look at the setup and also upgrades I did straight away!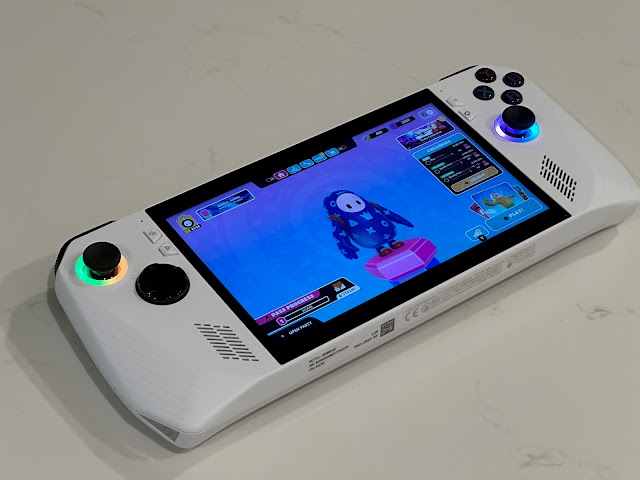 I wanted to replace it for quite a while, but the options have been limited. Gaming laptops are very expensive, heavy and large (I still have an older Alienware laptop), making them useless for air travel with the strict carry on weight limits. I have to bring my work laptop also...
Low end lighter laptops are not good for gaming without external PCI-e graphics cards that can't really be used on the go.
Valve has made the Steam Deck, which is a handheld gaming device running their SteamOS setup (essentially Linux), with limited compatible games available to use on it from the Steam library. 
No other apps used by other game companies (Epic, Battle.net, Ubisoft, Microsoft Xbox GamePass Store) are supported on the Steam Deck due to running on Linux, only the Steam library games (some) work on it.
And, most importantly, it is not yet officially available in Australia.
Here are the specs of the Ally, taken from ASUS website:
They claim it can run all the latest games at a decent pace, and this got me quite excited. Perhaps finally there is a solution for my need! :-)
One problem I could see straight away was the storage. 512GB is not even close to being enough space for my game collection.
I realise you didn't need all games on the go, but I want to have as many as possible!
So, to solve this, I picked up some upgrades from Amazon.com.au. I got a 1TB MicroSD card to use in the MicroSD slot on the Ally to store music and non-game related content, so it wouldn't use space I need on the system drive.
I also got a NVMe M.2 USB converter.
Opening the M.2 NVMe SSD enclosure from Green, you can see it can fit a normal M.2 SSD, and the smaller type used in the Ally. It has different alignment hole to push in the SSD retainer that is also included, rather than needing a screw.
I guess I could buy one of the many USB-C docks designed for the Steam deck, which I expect would also work with the Ally as well.
So I remove it from the Ally:
Eventually though, it completes.
This is where the applications written for the Ally come in - namely Armoury Crate SE. This is a weird name for what is essentially a game launcher and place to modify the unit settings using the joystick controllers on the Ally, with no keyboard needed.
This is nice since all the games appear in one place rather than different online store front applications. There is another important reason for this also, but more on that later.
I don't want to use the default Steam library location on the smaller 512GB c:\ drive for the games. I want to create another steam library on the d:\ drive, and make it the default. There is no way to do this in the "steam deck" mode of Steam. I can see the storage in it, but no way to add other locations.
Steam will transfer the game content from my Alienware PC to the Ally over the local network instead of downloading it from the internet again.
Within Armoury crate, you can change the settings for each game so it uses Gamepad mode, which then maps the joypad controls correctly to the game being launched.
That sorted, I could then try out some more taxing modern games on the Ally. F1 2023 on the go? No problem.
The good news though is you can connect a USB-C power bank to the Ally to extend its life when on the go. Time for Fall Guys and Uno testing to confirm the battery life...err. that took a while :-)
I saw on YouTube that PewDiPie 3d printed one for his Steam deck for the same reason. It surely can't be difficult to release something like this ASUS? I would buy it in a heartbeat.
Hell, someone has already created a 3d print file for it - link below. Wish I had one or knew someone who did, so I could get it printed and have a solution for it now...let me know if you can help!
I was thinking about live streaming possibilities too. Doing it live from the Ally would be difficult, as you would need the usb-c dock for a webcam, potentially hdmi out to a separate machine to stream out, given streaming from the device itself would mean poor game performance and even worse battery life. You would probably end up using one of those separate IRL streaming backpack setups with hdmi export to the setup, and a mountain of spare batteries which you could never bring on a plane anyway! I wonder if anyone does it?
I don't think it would be worth the cost and effort in my case. I may as well use a tower/desktop PC for gaming/streaming live at home instead and forget about doing it when travelling.
Moving on beyond games, this is an entertainment device, not a workstation for Email, Excel and Word. No MS Office installed on this machine. Maybe when Microsoft Copilot goes mainstream availability and I can dictate to chatgpt to make all my documents without using a keyboard. :-)
Accordingly, as an entertainment device I wanted to be able to playback music and videos, and play some emulated retro computer and console systems too. 
I thought the joypad support would be a roadblock for this, but I found a neat solution to this in the form of software that is used to control PC's as media centre devices. 
I haven't had the opportunity to use it on a trip as yet, but thanks to the Ally I am now looking forward to the long plane/train trips and lonely nights in hotels rather than dreading them!