Amiga 4000T Upgrade Part 2 - Scanner, Tape Drive, AmiTube and CDXL
Working on my Amiga 4000T for this latest build has been refreshing and fun - setting up AmigaOS 3.2.2, getting the ZZ9000 and ZZ9000AX and applications working well was very satisfying. You can read the first part of this build here if you want to get up to speed.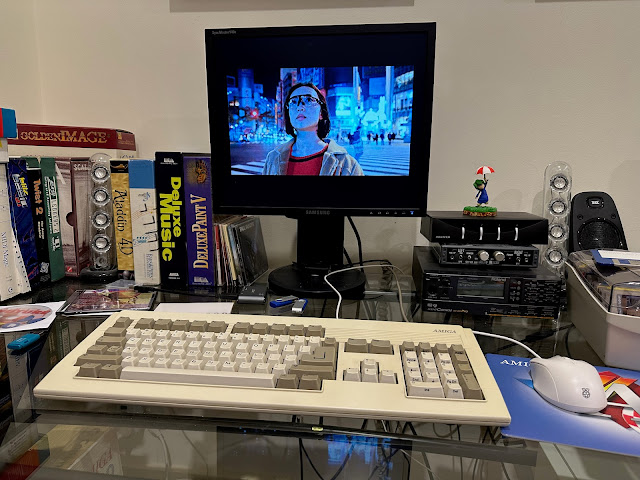 Let's get started.
I think for most Amigans we are well aware that Amigas were used to make the graphics used in Babylon 5 in the first series, before they switched over to SGI machines.
It was a pleasant surprise when I was installing Imagine on the Amiga 4000T to find a Starfury fighter example file someone created to load into it!
It's not the original file of course, but it is a nice reminder that Amigas were used for more than just games and demos.
I found a car example file too:
It is a shame I have little to no graphic creation talent, so I can only look at and be impressed by the work that someone put into this.
It was around this point I changed my background on the Workbench - an oldie but a goodie. 
I set to work titling some of my audio cd's in Groovyplayer so they appear when I am playing the CD's. We are spoilt these days with internet cd lookups filling in this data automatically on modern computers - would be nice to have this on Amiga too since this machine is internet connected...
Next, I set to work setting up my IDE CD drive, and removing the other drive which was getting a little unreliable.
I hooked the IDE CDROM into the secondary IDE port on the Buddha zorro card:
Here is the drive installed into the Amiga 4000T. I moved the IDE and SCSI drives to the top, to make room for the Tape Drive I plan to install also.
Here is my hard disk and drive situation - CD0 is not showing as I commented it out of the user-startup at this time while I had it disconnected.
Before someone mentions it, yes I know you can install SFS or PFS for larger drives instead of using FFS. I had this situation previously on this SD until the PFS partition decided to corrupt itself while copying a file to it, losing all my data. Since then, I just use <4GB FFS as they were reliable. You will note that I am only using 32GB of the SD card when it is 64GB - that is because of what happened with the PFS before.
I plan to fix this mess later on, since partition sizes are no longer a problem in AmigaOS 3.2.2.
For now there is also the GDH0-GDH3 drives on the CF card, which was set by AmigaStore.eu when they prepped the 32GB CF card. There is also more unallocated space I can use on the CF card, and I will definitely need it, as you will see.
I open HD Toolbox and prepared the remaining 21GB on the CF card as one GDH5 drive:
I then formatted the GDH5 drive and called it Videos:
With this done, I turned my attention to the next task, which is getting CDXL videos working.
While researching I enjoyed some mp3's played from the QNAP network drive using AmigaAmp.
It was quite low resolution due to the 68000 CPU, and restricted in colour depth on CDTV with an ECS chipset, but the CDXL format was capable of more, when using faster Amiga systems.
It can also do HAM mode for greater colour depth video playback, but I didn't test that in this blog post. I plan to try it - though I am concerned how big the files will be as the non-HAM ones are already huge.
I know there is some old cdxl videos floating around, but that is pretty boring. What I want is to convert some modern videos to CDXL to try on my Amiga 4000T.
The issue is creating the CDXL videos. Doing it on an Amiga is painfully slow, but the tools do exist.
A recent AGAConv package on Linux has made this process so much easier. I am sure the purists will be enraged I "cheated" to create the CDXL files, but it took a tiny fraction of the time, and I could create so many more videos as a result. I am comfortable with it.
I then used wget to get the files needed for the converters and other tools.
I expect these conversion will take much longer and use unusual HAM screenmodes which I assume while be much slower. However, I haven't tried that yet to confirm.
The AGAConv tool converts the videos into optimal format for playback with AGABlaster on a AGA Amiga with 060 CPU.
I then converted a few more mp4 files I have saved from YouTube and elsewhere - music videos are a good size for cdxl conversion, being 3-5 minutes long in most cases. The generated CDXL files are huge, much bigger than MP4.